In an increasing demand scenario for cryogenic service equipment, Orion is respondigng with its wide range of cryogenic service - dedicated valves.The advanced selection of materials is combined with simple and reliable design which is proven by many of years of products manufactured, qualified and supplied throughout the world.
Orion expertise can offer a valve production line capable of low temperature operation down to -196°C for many types of equipment: swing and dual plate check valves, gate valves, globe valves and others.
Various features and specific customer request can be satisfied, with plenty of accessories, from adjustable collar drip plates to interlocking of valves, from handwheel or gear box operation up to electric motor - operated valves.
Orion valves are designed and verifies throught 3D CAD designing, supported by the latest version of FEA, integrated with the design software.
Extended drainage or venting accesses are easily provided with piping and weld neck flanges in order to exit the isolation thicknesses.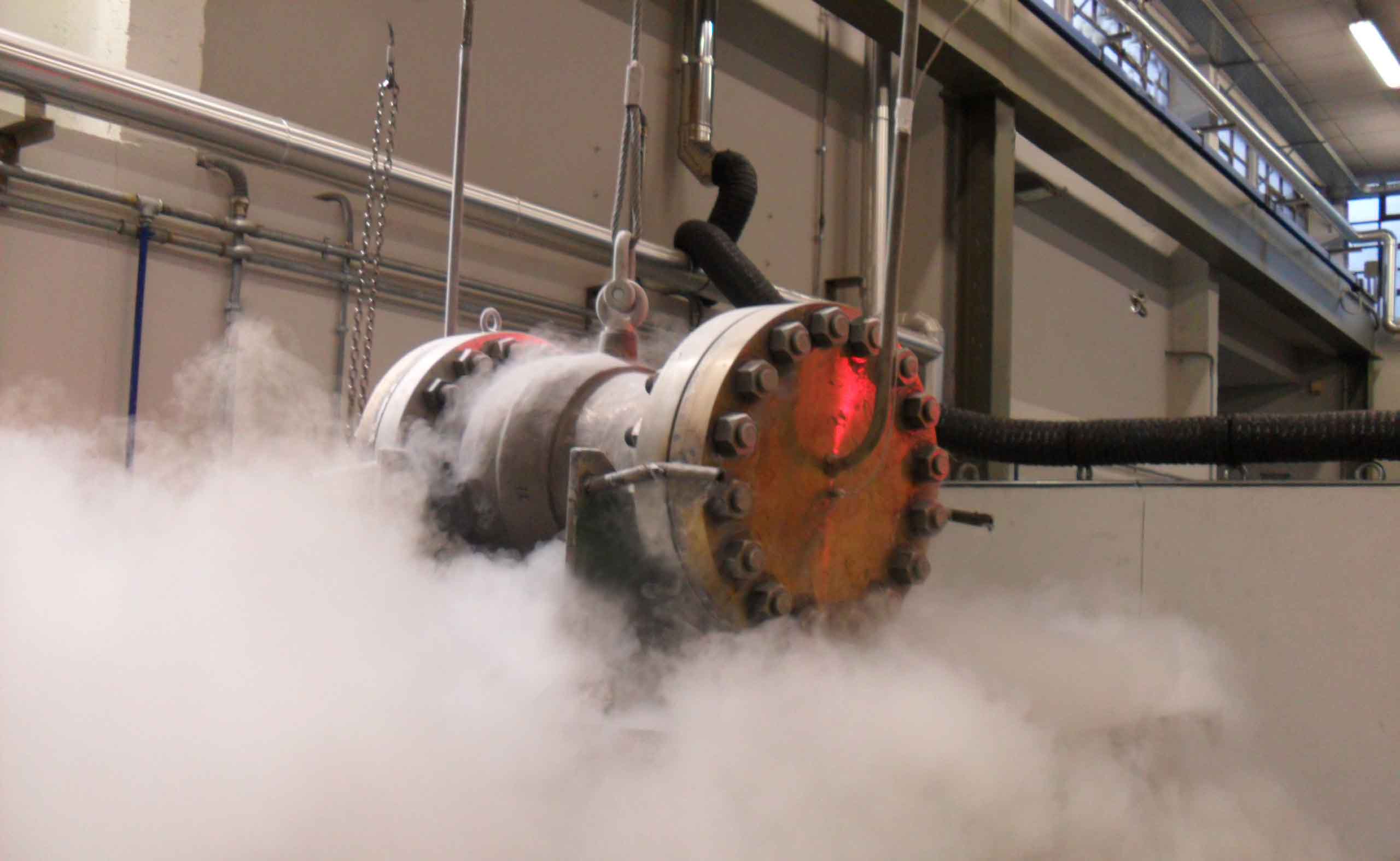 Materials
The cooperation with primary quality european suppliers of gaskets and seales allow to keep FE levels to the highest standards, with a wide range of certification for all gasketing material (SHELL MESC 85-103, 85+200, 85-203, 85-204, API 622, LI TP PVA 001, ISO 15848): For cryogenic service the material selection is ranging basically between austenitic stainless stell up to CRAs. Refer to Orion catalogue for a wide material listing and related allowable wotking pressure. The fire safe design of the valve is achieved with the use of graphite rings insertions of the sensible leak paths.
MATERIAL SPECIFICATIONS

Material Type

ASTM

Symbol

18 Cr - 10 Ni - Nb

347H

18 Cr - 10 Ni - Ti

321

18 Cr - 8 Ni

A 351 GR CF8

304

18 Cr - 8 Ni

A 351 GR CF10

304H

19 Cr - 10 Ni - 3 Mo

A 351 GR CG3M

19 Cr - 10 Ni - Nb

347

19 Cr - 10 Ni - Ti

321H

19 Cr - 9 Ni - Low C

A 351 GR CF3

304L

19 Cr - 9 Ni - Nb

A 351 GR CF8C

20 Cr - 10 Ni - 3 Mo

A 351 GR CG8M

20 Cr - 18 Ni - 6 Mo

A 351 GR CK3MCuN

F44

22 Cr - 13 Ni - 5 Mo

XM19

25 Cr - 20 Ni

A 351 GR CK20

26 Cr - 20 Ni

310H
For improved seating, tightness valves can be equiped with soft seating feature with material selection suitable for cryogenic service.
POLIMERIC SEAL

Material

Operating Temperature

PTFE

-100 to 150 °C

PCTFE

-250 to 150 °C

PEEK

-100 to 250 °C

DEVLON

-100 to 150 °C
CAVITI RELIEFS
For all the valves where the body cavity can be left isolated and sealed in closed position, as for instance happens in gate valves, Orion recommends to emply a cavity pressure relief system- This can be achieved through an external routing pipe supplied with a check valve and eventually with block valves. The piping can be a AISI316 compression fitting assembly or an ASME socket weld piping, as per customer specification. The easiest solution is a drilled relief hole connectinf the body cavityt with the upstream line, directly drilled on the disc. The relief hole as a consequence will inhibit the bi-directionalitu of the valve, so far other arrangements can be provided.

STANDARD E SPECIFICATIONS
Besides the standard adopted for the design of extended bonnets, usually Shell MESC 77-200, BS6364, ISO 21011, any specific plant requirements can be examined and followed.
ASME B16.34 - BS 1873 - BS 1873 - API 600 - API 594 - API 6D